Cloud Infrastructure Management
Cloud infrastructure management has always been a challenging hurdle to overcome. This is due to both limited visibility and the difficulty IT professionals in charge of maintaining cloud infrastructure have collaborating. Cloud infrastructure management software and best practices can help alleviate and improve these common issues to increase the efficiency of your infrastructure.
What is cloud infrastructure?
Cloud infrastructure refers to the components required for cloud computing. In order to host services and applications in a cloud, you need cloud infrastructure.
This includes hardware, storage, network resources, virtualization software, and many more components. These can be acquired through providers such as Amazon Web Services, Google Cloud Platform, Microsoft Azure, etc.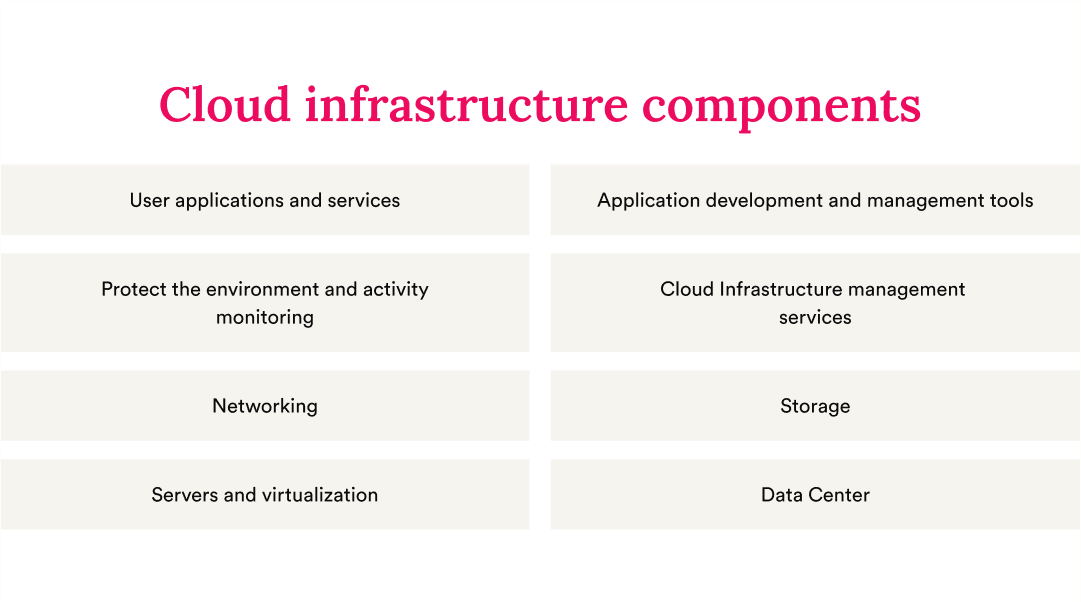 Why use cloud infrastructure management services?
Cloud infrastructure can be a pain to organize and manage in one place. It can also be a big commitment to learn and manage your own native cloud infrastructure. Cloud infrastructure management services offer a solution, either by partially or fully maintaining your cloud infrastructure for you.
Why is proper management important?
Cloud infrastructure management is needed to effectively allocate and deliver key resources when and where they are required. It is a must for effective cloud computing while keeping costs under control. This is especially the case when it comes to multi-cloud models, where the cost and difficulty in managing different cloud platforms is greater.
What does cloud infrastructure management do?
Cloud infrastructure management brings oversight, backed by tools, to enable businesses to create and configure their existing cloud assets all the way to retiring them.
Configuration
IT professionals use management tools to run the day-to-day operations and resource allocation of both software and hardware components of the cloud infrastructure.
Monitoring
The tools that come with cloud infrastructure management allow visibility into the system. They are used to monitor cloud health and alerts, and to create analytics.
Automation
Tools allow for the automation of operational tasks such as auto-scaling and auto-provisioning.
Cost optimization
Monitoring resource usage and utilizing strategies to minimize the cost of resources when not in use is a key advantage of cloud infrastructure management.
Security
Having an extra means of configuring a cloud provider's native security controls means that you can adjust and customize security in your particular setup.
"I highly recommend Morphosis team! Their professional team has created the design for our e-commerce store and we are very happy with the result. They are efficient, innovative, and manage to carry out projects within both time schedule and budget."
Hanna Robertson, INGROSS AB
CEO