Rachawan Visavacheevinanan
Six Steps on How to Formulate Your Design Strategy
Design strategy is what drives the success of any product. Not having a solid design strategy can be difficult to fulfil the requirements of your customers or clients while achieving your goals.
Design strategy, like any other business tool, adds design thinking concepts to the digital product's overall business goal. It ultimately helps to create an effective product that will meet these goals, as well as fulfilling user expectations.
In this article, we explain what design strategy is, its roots in business-driven strategy and outline six steps on how you can easily create your own design strategy.
Source from
stock.adobe
What is a design strategy?
A design strategy is a long-term plan for using design to meet your business goals through creative solutions, well beyond aesthetics. It aims to provide insights into how your product or brand will appear so that it stands out from the competition and builds a strong relationship with your customers.
A proper design strategy should be applied to every business. As it helps turn your strategic vision and goals into viable stages of implementation using design thinking approaches. The method includes visualizing and ideating solutions that prioritize users while developing a strategic UX design strategy. 
For this reason, having a good design strategy allows product teams or businesses to create a product that fulfils the objectives of the company while meeting client or customer needs.
Design Strategy Example – Starfish
Starfish is a Thai education platform for teachers with the goal of changing Thailand's education system. Their goal was to create an online platform for integrating new and creative teaching approaches for teachers.
From the beginning, we understood that if we were to succeed in this project, we needed a good design strategy in place to better understand the Thai educational system and the behaviours of teachers, as well as their pain points. To do this, we held a few workshops done for the project, consisting of the following steps:
We held a focus group with our client to gather information.

We also conducted qualitative research with a small group of teachers to have a better understanding of our target audience.

We then collected and summarized the information in user personas and a customer journey map.
These are just a few workshops we did, you can read more about this project here.
Six steps to formulate your design strategy
A good design strategy does more than simply persuade a user to engage. It generates productive, goal-oriented and cost-effective work processes, which are fundamental in developing a successful product. 
To create a design strategy, you need to first evaluate your starting point and end goal, and then map out exactly how to get there. The following steps explain the process of developing and implementing an effective design strategy.
1 Define your brand
Defining your brand is easier said than done, but it is a vital part of establishing your design strategy, as it helps you to connect with the world, distinguish yourself from competitors, and create an experience that motivates people to interact with your business.
You must respond to questions such as 'who you are' and 'what you stand for'. Answering these questions is the starting point to differentiating your business from that of your competitors, making your product or service unique when presented in front of customers. 
2 Set quantifiable goals
Any good design approach has well-defined objectives. It specifies what you hope to achieve with the product.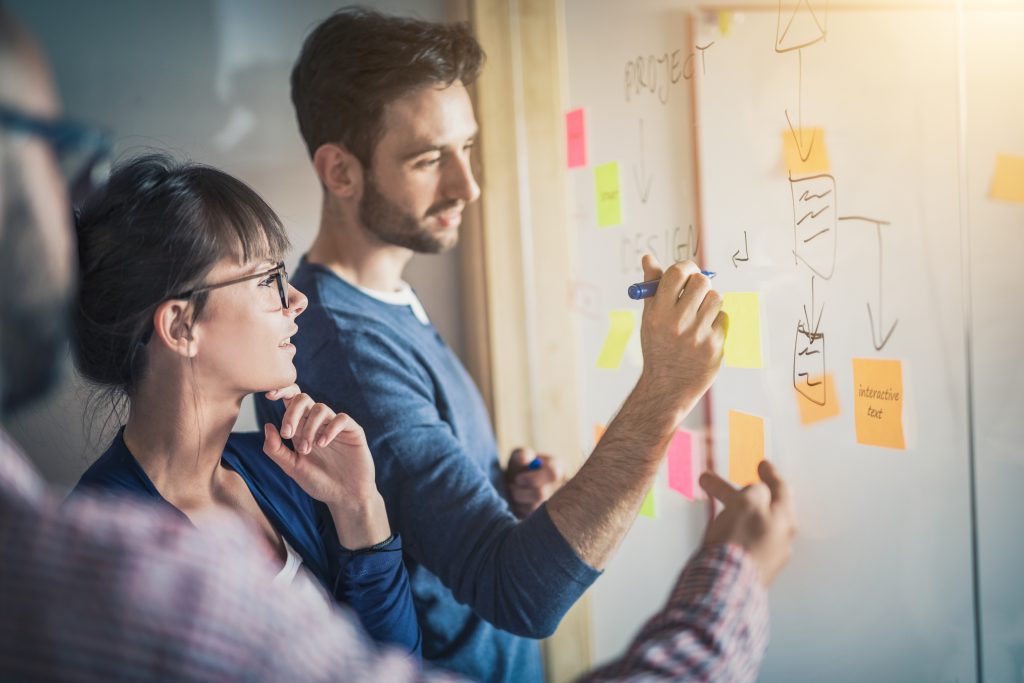 Source from
stock.adobe
Having a quantifiable, measurable goal that aligns with your overall business objective gives you a clear reference point throughout design and development on whether you are still on the correct path. Naturally, the goals you have defined should represent your vision and principles.
3 Find your competitive advantage
Like any other business, you need to know where you stand in the market, as well as where your competitive advantage lies. What have you found during your research? What are the current unfulfilled consumer demands?
What are the most pressing challenges confronting the business today? What opportunities are available? You can establish a competitive edge by having a better understanding of your target customer's requirements and the strengths and weaknesses of your competitors. 
Hence being distinctive is the best way to distinguish yourself from your competitors. You must maintain the uniqueness and distinctiveness of your brand by creating answers or new solutions to current problems and making a genuine difference for potential clients.
Source from
Unsplash
For instance, Louis Vuitton's competitive advantage is based on the differentiation-focused approach (a strategy that a company can use to differentiate its products and services from its competitors).
To stay one step ahead of their competition, their entire branding and creative design approach is based on accuracy and proactive action which are continuously implemented over time.
And because of their product distinctiveness, the company is able to be a leading brand in the luxury market and can command premium high pricing.
In fact, they've managed to connect their differentiating advantage to their brand name making the name Louis Vuitton synonymous with the word 'luxury'. 
4 Review results
After formulating a design strategy, how do we know whether it's working to our advantage? Measuring your achievements is the greatest method to determine whether your product development is on track.
Source from
stock.adobe
Depending on your objectives, you can use a variety of analytic tools to track your progress. When testing your MVP, using analytics tools such as Google Analytics, HotJar or UXCam will help you determine the success/failure of your design, depending on the objectives you have. 
5 Continue to test, modify and improve
Things are always changing through the course of a product lifecycle, from the market environment, design conventions and audience demands to the competition.
To adapt to these changes, you and your team should continue to test, and improve the design approach regularly to keep your product up to date with user expectations.
Need help formulating a design strategy?
If you want to learn more about product design, innovation, and UX research & strategy, we're here to help. At Morphosis digital consultancy, we develop strategic design strategies for a wide range of industries. View our work to learn more about how we can also help your business grow in the digital era. 
Subscribe to our newsletter.
Want to read more?
Here are some related articles
Product Design
Let us will help you open new business opportunities by giving you a new perspective on your digital product you may not have considered before.
Learn more