UX optimization
What is user testing? 
User testing is an in-depth UX research method that involves observing how your users interact with your digital product in order to find opportunities to create a better experience.
Typically conducted in the later stages of the UX/UI design process, user testing allows for validating the digital product's design direction, ensuring that users can intuitively navigate their way through the product to complete their goals. 
Learn more about user testing in the following sections: 
Benefits of user testing

The primary two user testing methods

Our six-step testing process
Data-driven design
Benefits of user testing
User testing sessions can mean the difference between a digital product that flops and one that captures audiences, increases brand awareness, and generates loyalty. 
User testing can directly boost revenue for your business in these three ways:
It increases conversion rates

It decreases developmental costs

It optimizes time usage
UX and conversion rate optimization
Validate design decisions and uncover UX optimization opportunities with user testing services at Morphosis.
Our UX research team is experienced in extracting valuable insights from user testing sessions, giving you access to first-hand feedback from real users on your digital product's design flow and UI. 
Furthermore, user testing can also help you discover reasons why users are dropping off your digital product after launch, highlighting conversion rate optimization opportunities you are missing.
Lower development costs
User testing validates assumptions we have about our users, allowing us to identify the most important features a digital product should have. 
Instead of spending time and money developing irrelevant features based on incorrect assumptions, by conducting user testing, we can effectively allocate our resources to building features that truly matter to end-users. 
Overall, this leads to fewer change requests and thus reduces the overall cost of designing and developing your digital product.
Shortened project timeline
Conducting user testing sessions prior to the design process significantly shortens your digital product's design and development time frame. 
By setting aside two to three weeks to find out real users' behavior, thought patterns, preferences, and opinions, we can avoid spending days or even weeks redesigning and developing the digital product.
For your business, this means designing and developing a more optimized digital product while streamlining development time frames, allowing you to trim unnecessary costs and launch your product in less time.
User testing methods
The two primary user testing methods
User testing can be conducted in a variety of different methods to suit the project's requirements, such as business goals, budgets, and timeframes. 
Here are the two main ways to conduct user testing:
Face-to-face user testing

Remote user testing
Face-to-face user testing
Individual interviews involve face-to-face sessions between the UX researcher and the interviewees. The interviews are structured with straightforward questionnaires along with tasks for the interviewees to complete within the digital product.
Advantages
Ample opportunities to build on questions

Body language and feelings are easily seen
Disadvantages
Requires an expert interviewer

Can be time-consuming
Remote user testing
Remote user testing allows clients to test digital products without needing to be in the same physical location as the UX researcher. With the help of various software technologies, such as mouse tracking and session recording, key friction points, which generally reveal underlying confusion, can be recorded for UX optimization.
Advantages
Can be conducted anywhere

Cost-effective, as it can be moderated or unmoderated
Disadvantages
Probability of session disruptions

Apparent learning curve for non-tech users
Included parties
Extracting insights from different groups
We have developed a systematized user testing process that allows us to extract unique insights from real users on both the functionality and design flow of digital products we build for our clients. 
When conducting user testing sessions, there are typically three parties involved:
Participants

Moderator

Observers
Participants
Participants are members of the public who fit the digital product's target audience. They are recruited by our team or the client's team. To avoid bias, participants must not have any involvement in the design or development of the site or product.
Moderator
The moderator is the only person present with the participant during user testing sessions. This ensures a comfortable environment. The moderator lets the participant know that we are not testing their capabilities, but our own designs.
Observers
Finally, the main observer can either be the client or a UX designer working on the project. (Only one observer is allowed in the room with the participant to avoid intimidating them). However, more parties can observe testing sessions remotely through our live stream recording of sessions.
Why record sessions?
Recording tools offer two key benefits to our user testing process: 
We can review our testing sessions to identify further areas of opportunity for UX improvements

We can share testing sessions with clients, allowing them to store and review the sessions again in future projects
For this reason, we set up a face camera and a device camera during user testing sessions. 
Moments captured
The face camera captures participants' facial expressions and eye movements, helping us identify points of friction within the product's design flow.
Meanwhile, the device camera records and analyzes how users navigate from one page within the product to another, giving us an overview of how participants interact with the digital product's wireframe or prototype. 
Now that we know which parties are involved and what tools are required, let's go through our six-step user testing process.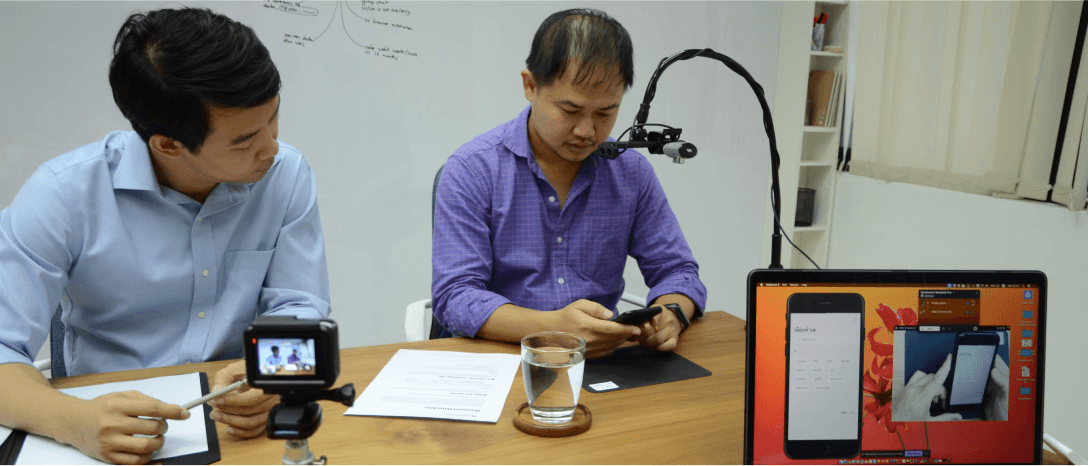 Our six-step testing process
Step 1: set appropriate KPIs
Ultimately, the goal of user testing is to assess whether the digital product's design direction and flow answer the needs of users. Hence, we believe that setting appropriate KPIs is the most crucial step in the user testing process.
Validating assumptions
Early in the UX design process, both our UX design teams and our clients make many assumptions about the overall design flows of the digital product. Therefore, the key purpose of user testing is to validate these assumptions before further resources are invested.
For this reason, our user testing sessions are meant to test various specific aspects of the digital product's design, as opposed to the overall functionality or business viability of the product.
By setting specific KPIs for user testing sessions, we can ensure that our findings contribute productively to the design and development process of the digital product.
These KPIs can include:
Verifying product wireframes with real users

Testing the product flow to discover points of friction

Seeing whether users can complete their goals on the product's wireframe or prototype
Creating tasks for participants
After the KPIs are set, we create tasks for users to perform during the testing sessions. These tasks are meant to help us uncover and solve design issues with the digital product and achieve our KPIs.
The nature of these tasks depends on the particular digital product. For instance, for an online booking platform, we might ask participants to:
Create an account

Find hotels in (location)

Make an online booking

Go through the payment process
Meanwhile, for e-commerce platforms, we might ask them to:
Find product A

Add a product to a cart

Select a payment option

Find the product tracking page
Step 2: determine the number of user groups
Next, we need to determine the number of user groups to include in the user testing process.
The number of web personas that the digital product targets gives us a rough indication of the user groups to include.
However, we also consider the project's budgetary and time constraints, as well as the business needs of our clients.
For instance, even if we are designing both a backend and frontend system for our clients, if their business needs are to deliver a quality user experience to their target audience, we omit internal stakeholders from the user testing process and focus on ensuring that the product caters to their target audience.
As a result, we typically pick one or two of the most important user groups to include in the user testing process.
The optimal number of participants
Research from Nielsen Norman Group found that the optimal number of participants for each test group is five. This is because the number of new insights diminishes significantly after the fifth participant.
So, by setting the number of participants to five per group, we can help our clients save both time and money on user testing while still gathering insightful data from the process.
Step 3: Create user testing questionnaires
As mentioned above, validating assumptions about the effectiveness of the digital product's design flow is a key goal in user testing. Thus, our UX research teams also create questionnaires designed to help us achieve this during user testing sessions.
After the participants have performed different tasks on the wireframes or prototypes, the moderator starts a Q/A session.
These questions can also be related to the assumptions and goals that we are trying to validate.
During this session, questions might include the following:
How is your overall experience using the digital product?

Did you understand what this app or website is about?

How difficult was it for you to do task "X"?

What did you like the most about the platform?

What did you dislike the most about the platform?

What would you do to improve the platform?
Step 4: recruit participants
Participant recruitment can either be done by our UX research team or our clients. As mentioned, incentives are usually provided to the participants to encourage them to join the user testing sessions.
The type of target audience determines the level of incentives required. The participants' details that help us determine the appropriate incentive include:
Their job position

The distance they need to travel to reach the testing site

The time they are expected to spend during the testing sessions

The digital product that they are interested in
During recruitment, screening questions need to be prepared. These questions help us select participants that reflect the target user personas of the digital product.
Step 5: user testing sessions
Once the participants are recruited, our UX research team starts planning the testing days to both ensure that there are no schedule conflicts, and where feasible, to shorten the required time frame.
This process provides our clients with user insights in the most resourceful way.
Our UX research teams are able to conduct five user testing sessions a day, with each user testing session taking 45 minutes to one hour. Hence, if we are testing two user groups, the total days required for user testing would be around two days.
Below is a brief summary of the process we go through for each user testing session:
Introduce users to the session and explain our testing goals

Have participants sign a consent form to allow us to record each session and potentially take photos to use for marketing purposes

Start recording

Start the testing session (asking participants to perform specific scenarios and tasks)

Conduct a Q/A session

Stop recording

Clean up the testing environment and prepare for the next participant
Step 6: results analysis and handover
Finally, we compile the results of the user testing sessions into a comprehensive report, including our analysis of key areas for improvement.
Apart from the report, we can also provide two optional reports:
Transcripts of the user testing sessions

Translations of the report and transcriptions
After creating the report and transcriptions, we set a date to hand over all our findings to the client. These findings include:
The final report with key insights and issues

Transcripts and translations (optional)

All video files of user testing sessions (optional)
The report highlights key patterns in how participants perform different tasks on the wireframe or prototype. If the UX optimization required to resolve design issues is fairly minor, we align with the client and immediately implement the design changes.
However, if the user testing session uncovers fundamental issues with the digital product's design that require major design changes, we discuss our scope of work with the client to find the best solution going forward.