Creating Impactful UX Design Presentations: 11 Essential Tactics
Communication is a key, yet often underestimated, tool in any UX designer's toolkit. As a designer, you delve into UX research and craft designs based on these findings. However, the job doesn't end there. You often still need to share your design choices and vision through UX design presentations for other project stakeholders or your client, who might not share your level of understanding of the project.
Creating effective presentations can be complex and challenging, but by following certain best practices, you can make them more engaging and successful.
In this article, we will explore 11 ways to enhance the quality and impact of your UX presentations.
1. Understand your audience
"Design is really an act of communication, which means having a deep understanding of the person with whom the designer is communicating." - Donald A. Norman
The most important question to ask before preparing any presentation is, "Who is your audience?" Not knowing your audience is like shooting arrows in the dark. It's hard to hit the bullseye.
Will your audience be other members of the UX design team, project stakeholders, or clients? You need to consider this while preparing your presentation.
Knowing your audience is crucial to determining how to present and frame your arguments. It also helps you find the right tone for your presentation. An articulate message only resonates if it's tailored to your listeners' perspectives.
2. Set clear goals
Begin your presentation by explaining your goal for the talk and summarizing the topics you'll address along the way. Setting clear expectations for your audience is invaluable.
For example, a simple goal statement such as "we aim to reach a consensus on X by the end of this talk" helps everyone understand the aim of your talk. Meeting this goal underlines the effectiveness of your presentation, making it a success.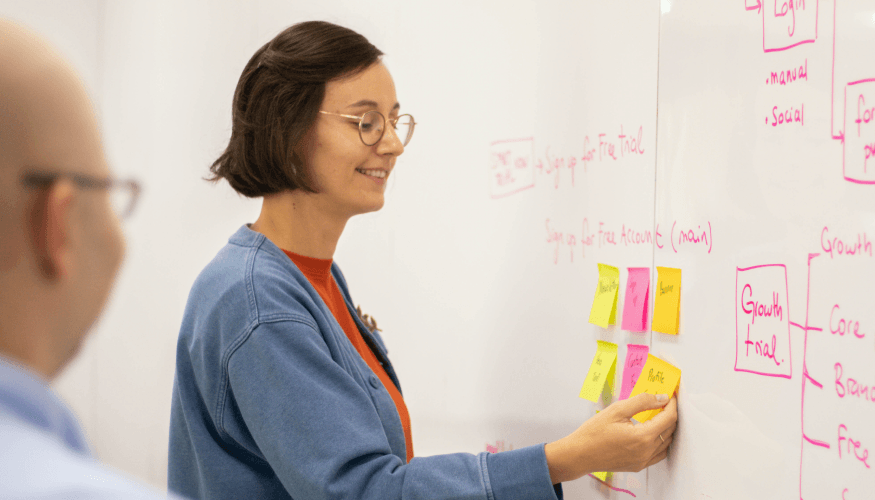 3. Brevity is key: Provide recommendations
While presenting concepts, lay out topics in sequence, focusing on one piece of information at a time. Avoid overwhelming your audience with extraneous information, which might detract from your message. Allow your audience enough time to digest the information.
Providing recommendations is an indispensable aspect of most UX presentations. Find a balance between being too generic and too specific. Your recommendations should be comprehensive, detailing the proposed next steps and tasks to be done.
4. Bridge your solutions with the business
Showing the audience how your solutions match the company's goals and explaining the potential benefits is key.
To ensure your suggestions make an impact, share your strategy with your colleagues before the presentation. Getting them onboard early allows you to cater to their goals and objectives, which can enhance your standing in your presentation.
5. The power of storytelling
A good narrative can transform your ideas into an engaging journey that your audience easily understands and absorbs. A study by Stanford professor Chip Heath, recounted in his book Made to Stick, found that 63 percent of participants could remember stories, while only 5 percent could remember a single statistic (like this one).
Including stories in your presentation not only keeps your audience engaged but also helps get your point across. In particular, stories can be a powerful tool for underscoring potential risks. A narrative that shows user problems that your solution could address might just persuade a client to adopt your solution.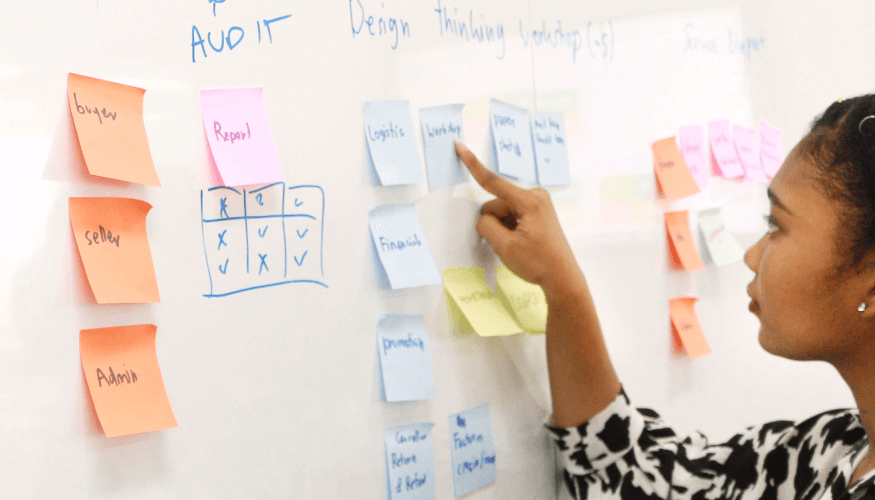 6. Clarify the question-answer session
For handling questions, there are two broad strategies. The first encourages questions during the presentation. This serves to clarify misunderstandings as they arise, ensuring everyone is in sync.
In the second strategy, you ask the audience to hold off on questions until after your presentation. This is effective for larger audiences as it helps maintain the flow of the presentation without interruptions. Often, many questions get addressed during the presentation itself.
7. Establish an empathetic connection with the audience
A successful presentation goes beyond simply communicating your design; it should reflect your audience's needs. As a designer, you must not only state your ideas but also resonate with your listeners' perspectives.
This empathetic approach asks you to step into your audience's shoes, understand their point of view, and tailor your presentation to their questions, concerns, and interests. An empathetic connection with the audience doesn't just make your presentation more accessible and impactful. It also helps establish a stronger relationship with them.
8. The power of practice
Practice in presentations isn't just a tool for refining your delivery. It also helps you anticipate questions, doubts, or hurdles that might emerge during your talk. Rehearse your presentation before the main event.
Rehearsals help you identify any weak points, enhance your fluency, and ensure that you have a response ready for potential questions. Remember, the more you practice, the more confident you become and the better you can deliver your presentation.
9. The role of visual aids
Visual aids, particularly well-designed slides, can increase the impact of your presentation. They can simplify complex concepts, make your talk more engaging, and hold the audience's attention throughout.
A balance of text and graphics can help the audience visualize the information you're presenting, aiding their comprehension and recall.
Keep your slides crisp, clean, and appealing, so they complement your speech rather than overwhelm it.
10. Balance the pace of your delivery
The speed of your speech plays a crucial role in the efficacy of your presentation. Speak too fast, and you might leave your audience confused and unable to keep up. Speak too slowly, and you risk making your presentation monotonous and losing your audience's interest.
Balancing the two is crucial.
Adjust your speed based on the complexity of the content and your audience's reactions. Don't rush through critical points and maintain a natural, conversational tone.
11. Cultivate a culture of feedback
After your presentation, invite feedback from your audience. Welcoming constructive criticism can invite invaluable feedback about your performance, highlighting both your strengths and areas that need improvement.
This feedback can help you enhance your skills and effectiveness in future presentations.
Remember, feedback is a gift, and accepting it with grace shows your commitment to personal growth and improvement.
Final thoughts
In conclusion, designing your presentation is as important as designing products. It's about telling a compelling story that connects your design to business goals, with the audience as the main character.
Done right, a UX presentation can not only give your design the spotlight it deserves but also persuade your audience to take action.
By following these practices, you can take your UX presentations from good to great, increasing the success rate of your projects. Remember, effective communication is a designer's superpower—hone it, use it, and watch your designs make a more significant impact.
Subscribe to our newsletter.
Want to read more?
Here are some related articles
Product Design
Let us will help you open new business opportunities by giving you a new perspective on your digital product you may not have considered before.
Learn more