How Personalization Transforms a Banking App into a Minimum Lovable Product
Banks have fully embraced the wave of FinTech, with most financial institutions releasing digital products to meet the demands of modern customers. It is now an industry standard for banks to have a banking app. When online services are no longer a game-changer, it can be challenging to make your bank stand out from the competition. 
In today's digital age,  the key to capturing your clients' hearts doesn't just lie in great functions. It's about creating personalized experiences. 
The Minimum Lovable Product
A term we often use in product development is MVP, or Minimum Viable Product. This is a simplified, viable version of a product that has the essential features required to solve a problem. On the other hand, a Minimum Lovable Product (or MLP) solves your customer's problems and increases customer retention with positive experiences. 
When you address your customer's unique needs and behaviors, you create a personalized user journey that captivates users from their very first interaction. This ensures that your design not only attracts users, but retains them. 
In this article, we'll explore how design can help you unleash the power of personalization to make your banking app a product that your customers truly love. 
1. Create a tailored starting point
The first step towards creating an MLP is understanding your target audience.  Start a user journey by learning their preferences, requirements, and pain points. Your banking app's onboarding and registration plays an important role in understanding the user, which allows the beginning to be tailored to each individual.
A banking app can conduct quick onboarding surveys and analyze data to understand each user's financial goals, savings preferences, and time constraints. By using this information, the bank can offer tailor-made recommendations, financial plans and services that match the needs of each user.
2. Design bespoke user experiences
A platform that evolves to match your customer's unique behavior is an interface that will truly resonate with them. By achieving this interactive, reactive experience, you establish emotional connections that captivate users and keep them engaged. 
For example, Netflix allows users to choose which shows they love during sign-up. The streaming platform then adjusts the user's feed to include movies and shows related to their interests. As a result, people stay on the app and continue engaging based on their continuously updating feed, with as many as 75% of the content watched on Netflix originating from its recommendations. 

Similarly, a banking app can make recommendations for users based on their banking data and activity on the app. For example, a banking app might provide helpful insights on spending habits that their client can change to save more money. Alternatively, banking apps can adjust a user's dashboard to include the features they use the most, whether that's favorite transactions or redeeming credit card points.
3. Go beyond banking product recommendations

Banking apps and platforms can use personalized emails, customized landing pages, and target promotions to create a cohesive and relevant customer journey. When making a transaction or subscribing to a service, banking clients are more likely to take action when they receive messaging and content that aligns with their interests. 
For instance, a banking app that uses credit car history and purchase patterns to suggest offers or packages that align with their interests, the bank not only enhances the banking experience, but also increases their chances of greater client loyalty and retention.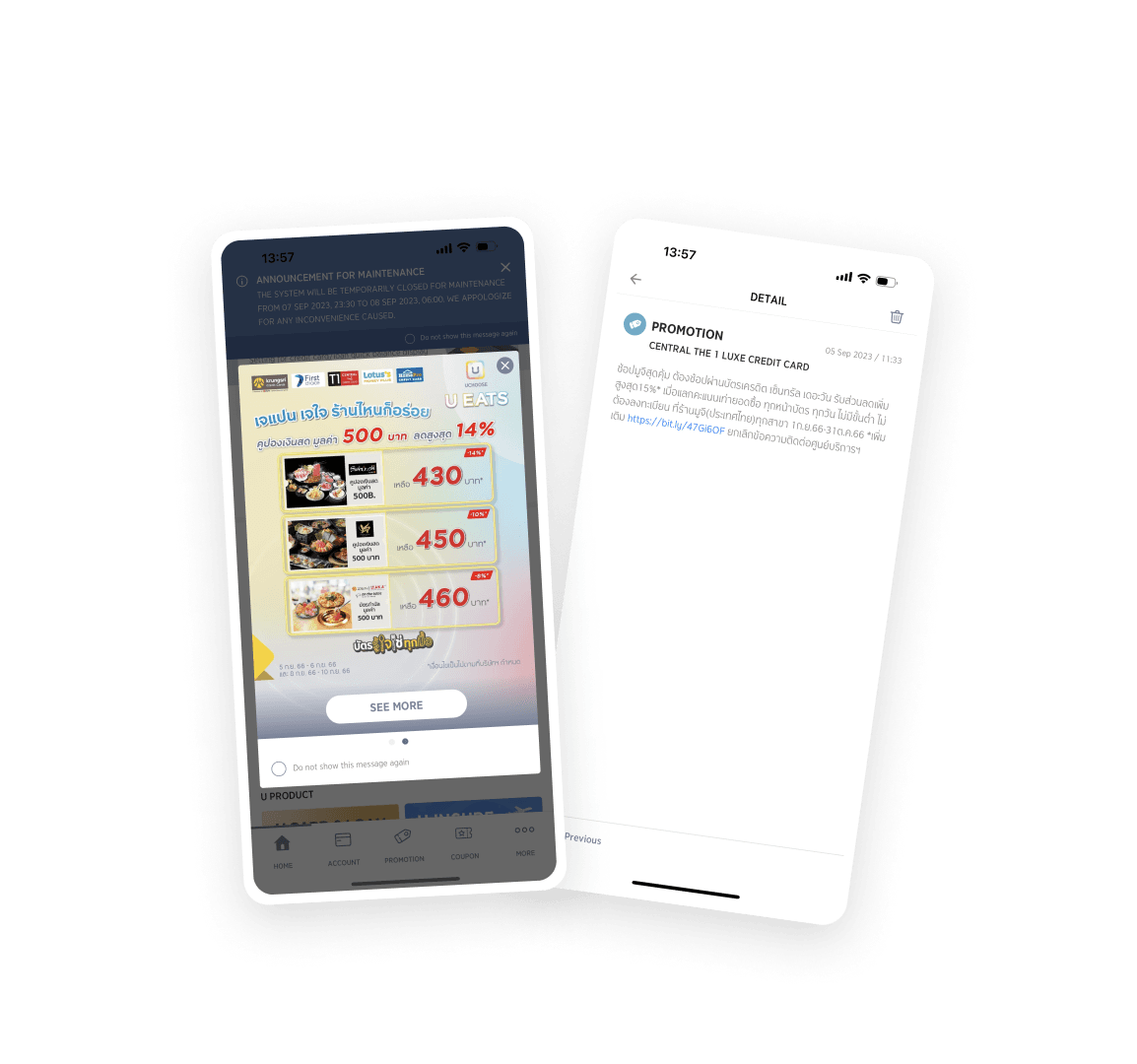 4. Deliver continuous value
The process of personalization isn't a one-time thing. It's an ongoing dedication to enhancing user experience. 
Regular updates, meaningful content, and adaptive interfaces ensure a lasting and enriching relationship between you and your customers. 
An example of how this is applied in other industries is with the language learning app, Duolingo. Duolingo offers users personalized quizzes and challenges that adapt to the user's learning progress. This consistent engagement keeps users motivated to learn. 

Most banking apps will produce monthly financial statements. These can be personalized even further with helpful insights, data visualization, and even personalized basic financial advice. 
5. Drive brand loyalty and advocacy
Users who feel understood and valued become brand advocates. By offering personalized experiences, your product transforms users into loyal supporters who eagerly recommend your banking app to their personal network.
If an app sends a user a birthday surprise via a personally addressed email, with a special discount code or free gift, that makes the user feel valued and appreciated. 
Receiving a thoughtful gift or promotion on a birthday is likely to leave a lasting impression on the user. They will remember your brand not only for your banking products and services, but for the personal care you demonstrated. Furthermore, this positive experience can lead to word-of-mouth referrals. That spreads goodwill for your bank among your client's friends, family, and online circles. 
Creating the MLP banking app
To summarize, the art of personalization can transform ordinary banking apps into beloved financial partners. By investing time into understanding your users, predicting their needs, and providing tailored experiences, you're not just creating an interface – you're creating emotional connections that lead to user love and loyalty. 
If you're unsure about where to begin designing the online banking experience your users will love, reach out to us today.

Subscribe to our newsletter.
Want to read more?
Here are some related articles
Design Thinking
Let us will help you open new business opportunities by giving you a new perspective on your digital product you may not have considered before.
Learn more